The Central Government has started Digital Health Card 2022, ie ABHA (Ayushman Bharat Health Account) under Ayushman Bharat Digital Mission. The National Health Authority (NHA) also made several tweets regarding this on Twitter.
I found ABHA card by researching about medical issues. And in this post I will tell you how ABHA card can be useful for you and what is the process to make it and what are the things you have to keep in mind.
What is the Digital Health Card, often known as the ABHA Card?:
A special ID card that doubles as your digital identification card. Your medical records will be preserved in this. Your whole medical history will be digitally recorded in one location, in other words.
People frequently misplace outdated medical records or treatment-related paperwork, or they forget to take it with them when they leave the house. In this case, their whole report and medical history will be digitally stored, which will be helpful to them in an emergency.
All those folks can apply for this if they desire to retain their medical records securely stored online.
How to make ABHA Card?:
First of all go to the website of Ayushman Digital Health Mission.
Now click on the option of Create Your ABHA Number on the home page.
Two options will appear to generate ABHA Number, select the one you are comfortable with.
Click on Aadhar Number or Driving License and submit it by entering its number on the next page.
An OTP will come on the registered mobile number. By entering it, you fill the application of ABHA Card.
After giving the information asked in the application, submit it. After that upload your photo.
For this click on My Account. Click on Edit Profile from the given option and upload photo.
Now click on submit. Your ABHA card will be generated.
Download it and take a print out.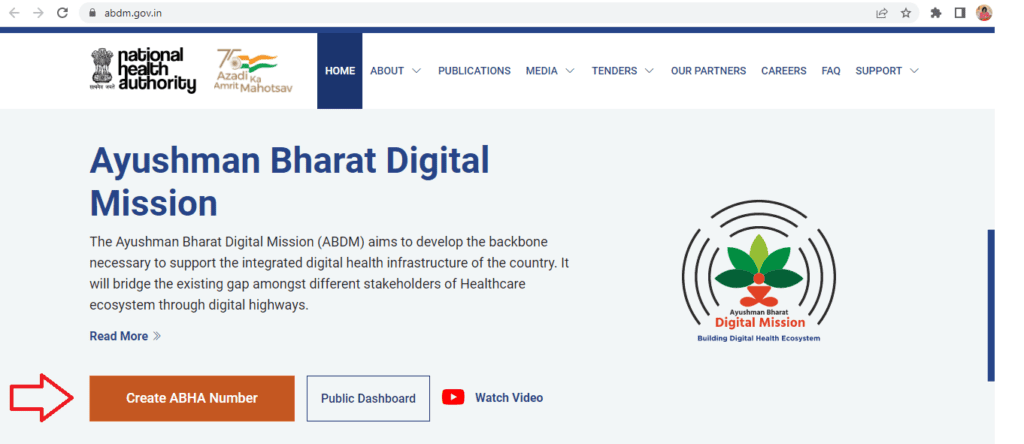 Required Documents for ABHA Card:
Adhar Card
Bank Passbook
Rashan Card
Permanent Address Proof (Domicile)
Passport Size Photo
Mobile Number
Will this card work only in government hospital or in private also?:
This card will be useful in both government and private hospitals. Not only this, it can also be used in any doctor's private clinic.
Can doctors or health professionals view medical data without a patient's consent?:
No, they will require your permission in order to see your medical records. They will require an ABHA Card or an OTP for this, which may only be viewed with the person's permission. in order to protect the patient's privacy.
How to read your medical history from ABHA card?:
You will receive a 14-digit ID number when your ABHA card is generated. A QR code will also be included. You may scan it to read your medical information.
Is there any app related to this card or not?:
Definitely is. The Ayushman Bharat Health Account, or ABHA, app previously known as the NDHM Health Records App is available on the Play Store.
Difference between Ayushman Card and ABHA Card:
Ayushman card:
This is a health insurance card.
Ayushman card is only for poor people.
It helps financially at the time of treatment.
This card has different criteria for urban and rural people.

ABHA Card
This is a digital health account card.
Any Indian citizen can make or get it built.
Useful for viewing and sharing medical or health data.
There is no criteria set for this card.
Benefits of making ABHA card:
There will be no need to carry reports or slips everywhere for treatment.
In this, all the information related to your blood group, disease or problem, medicine and doctor will be present.
You will be able to show all your medical records such as lab reports, prescriptions and diagnoses.
Facilities like online treatment, telemedicine, private doctor, e-pharmacy and personal health record will be available.
Insurance companies have been linked to this card, so that you will also get the benefit of insurance.
Easily share medical records with hospitals, clinics and insurance companies can share.
Also read Jio Virtual PC and Air Fiber