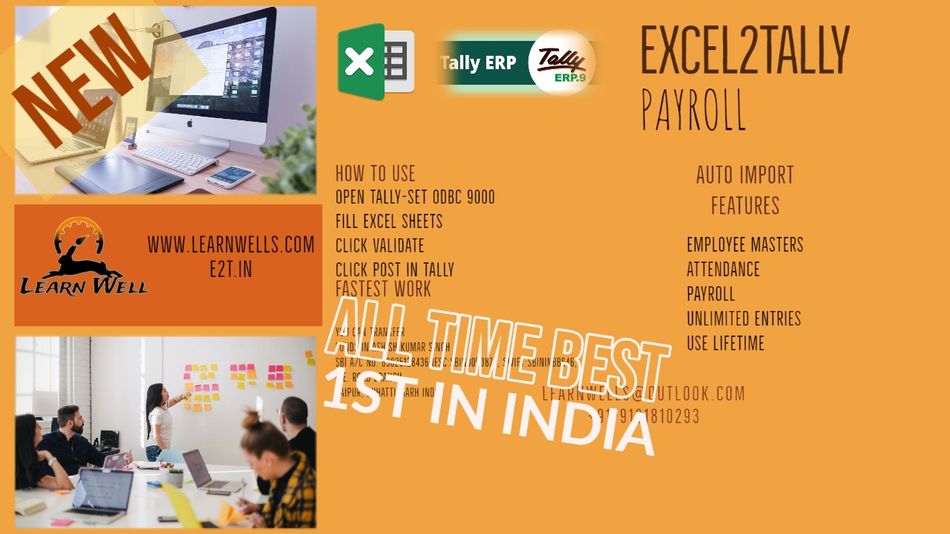 This is Excel to Tally Automation to Import your Payroll/Salary Data into Tally with Easy and quick way. With this software we can import Employee Masters, Attendance and Payroll Vouchers with every detail. With this payroll import sheet we can also do Payment and Journal entries related to Employees. It work perfectly with Tally ERP9 and Tally Prime. It holds below features that make it best Excel to Tally Payroll Data Import software :
Real time connection with Tally
Direct One Click entry.
Auto Calculation columns of Cell address, with Validate Button
Every time 25000 Entries with one click
Small and supportive file, work with every version of Excel
Support multi employee and multi deduction and collection ledger for each voucher.
Most simple import process make it best in this segment.
Master and Voucher Import Facilities:
Master Import:
This Excel to Tally – Payroll Data import software have below master creation sheet.
Employee Masters:
OWN GROUP AND CATEGORY
ALIAS AND EMPLOYEE CODE
FULL ADDRESS, DESIGNATION, JOINING DATE, RESIGNING DATE, WITH FULL CONTACT DETAILS.
FULL BANK DETAILS INFORMATION
FULL STATUTORY DETAILS INFORMATION
ALL GENERAL INFORMATION
MULTI PAY HEAD OPTIONS WITH AMOUNT TO GENERATE PERFECT PAYSLIP
Voucher Import:
Vouchers with multi expense/deduction and income/addition (payhead ledgers) in single voucher.
Vouchers with multi employee in single voucher
Use your own voucher type.
Supportive for Payable Accounts, bank and cash transaction
Import Vouchers with below facilities :
ATTENDANCE VOUCHER:
ATTENDANCE WITH UNLIMITED EMPLOYEES
WITH ALL DETAILS – WORKING DAYS, WORKING HOURS OR ANY OTHER FORM OF WORK.
WITH AUTO CELL ADDRESS FOR MULTIPLE VOUCHERS WITH MULTIPLE EMPLOYEES.
DO ALL MONTHS ENTRY WITH SINGLE SHEET AT A TIME.
POST ENTRIES WITH OWN VOUCHER TYPE
DIRECT ENTRY POSTING (NO XML REQUIRED)
WITH VALIDATE AND POST IN TALLY BUTTON
UP TO 25000 ENTRY AT A TIME
PAYROLL VOUCHER:
VOUCHER WITH UNLIMITED EMPLOYEE.
VOUCHER WITH MULTI PAY HEADS AND MULTI DEDUCTION HEADS.
VOUCHER WITH MULTI COST CATEGORY.
PAYSLIPS WILL BE GENERATED AUTOMATICALLY.
WITH AUTO CELL ADDRESS FOR MULTIPLE VOUCHERS WITH MULTIPLE EMPLOYEES.
VOUCHER CAN USE FOR BANK, CASH WITH PAYABLE ACCOUNTS
ALSO CAN USE IT FOR PAYMENT OR JOURNAL OR OTHER VOUCHERS THAT NEED TO FILL COST CENTER/EMPLOYEE NAME
YOUR OWN VOUCHER TYPE
WITH VALIDATE AND POST IN TALLY BUTTON
UPTO 25000 ENTRIES AT A TIME
---